Meet the Executive Director
Christine Harada is the Executive Director of the Federal Permitting Improvement Steering Council (Permitting Council). Ms. Harada brings over 20 years of expertise leading public sector and private organizations in creating long-term economic growth in combination with positive, measurable social and environmental impact.
Before joining the Permitting Council, Ms. Harada served as the Vice President for Government Affairs at Heliogen, a California-based renewable energy technology company. She was also on the Board of Directors of Rekor Systems, Inc. and Faraday Future. Previously, Ms. Harada was President of i(x) investments; a company focused on impact-driven investments in critical areas such as renewable energy, green real estate development, and accessible smart, sustainable housing. She was a Partner with the Honorable Thomas J. Ridge's advisory firm, focused on private-sector innovation, investment capital, and government policy. In addition, Ms. Harada has worked as a Senior Systems Engineer at Lockheed Martin and as a management consultant at the Boston Consulting Group and Booz Allen Hamilton. She was a Fellow with the Los Angeles Cleantech Incubator and served on the executive council for Clean Energy for America.
Ms. Harada's previous federal appointment was as Federal Chief Sustainability Officer under President Barack Obama. In this role, she oversaw all federal sustainability-related initiatives in energy, vehicle fleets, and acquisitions. Ms. Harada developed and implemented policies that resulted in an 18 percent reduction in greenhouse gas emissions, a 23 percent reduction in energy use at federal facilities, and a savings of 177 billion gallons in drinkable water. She was also responsible for investing $4 billion to improve aging infrastructure and lower overall energy consumption in federal buildings, leading to an estimated 33,700 private-sector jobs and efficiency gains that will save 1.4 million tons of CO2 emissions annually. 
Before her White House role, Ms. Harada was the Acting Chief of Staff for the U.S. General Services Administration (GSA), managing an annual operating budget of $26 billion and supporting operations for 12,000 federal workers. She also worked as the Associate Administrator of Government-wide Policy and Chief Acquisition Officer at GSA, providing oversight to $63 billion in federal procurement. 
Ms. Harada holds a master's degree in international studies from the University of Pennsylvania (Penn) and an MBA in finance from the Wharton School at Penn. Additionally, she has a master's degree from Stanford University and a bachelor's degree from the Massachusetts Institute of Technology in aeronautics and astronautics.  
See Message from the Executive Director
Meet the Deputy Executive Director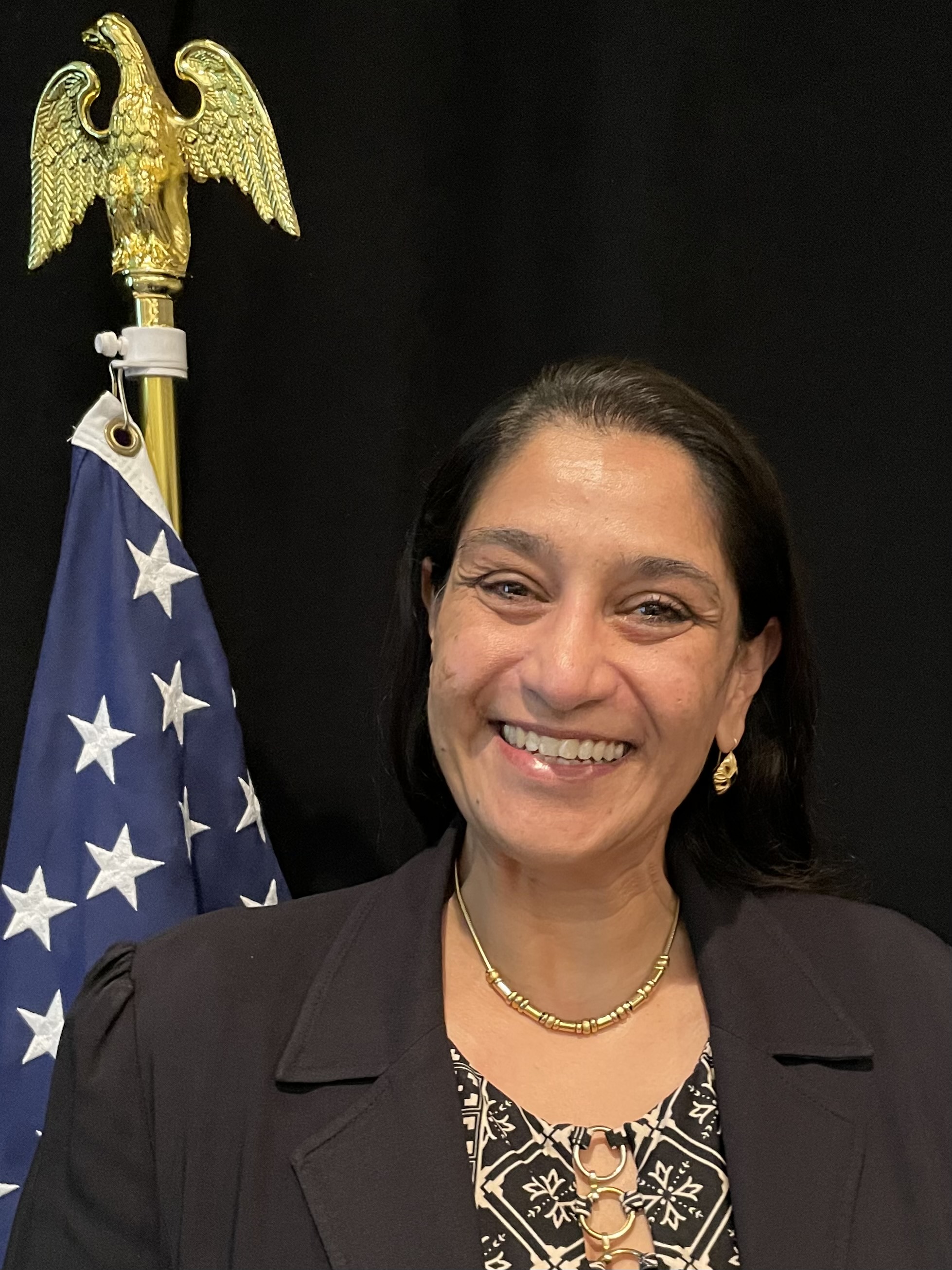 Manisha Patel is the Deputy Executive Director of the Federal Permitting Improvement Steering Council (Permitting Council). Ms. Patel has over two decades of experience developing and implementing regulations, policies, and guidance for public agencies and the private sector to deliver infrastructure projects effectively and efficiently, while protecting our natural resources and producing positive outcomes for our communities. Her mastery of the National Environmental Policy Act (NEPA) and acumen for solving complex multi-jurisdictional problems, including working with a broad and diverse range of stakeholders, have yielded some of the fundamental federal environmental and energy efficiency regulations and policy of the last decade. 
Prior to joining the executive staff at the Permitting Council, Ms. Patel was a Vice President at WSP, a global engineering services firm. At WSP, Ms. Patel led the Environmental Process and Policy Practice Team, providing cross-disciplinary strategic advice to deliver major infrastructure projects by using innovative approaches for accelerated environmental reviews and permitting approvals.
Ms. Patel shepherded the development of a Planning and Environment Linkages (PEL) guidebook for the Federal Highway Administration and the Federal Transit Administration.  PEL is a collaborative approach to transportation decision-making that uses the community, economic, environmental and transportation goals developed during the planning stage to inform and accelerate the environmental review process under NEPA. She was also part of the team that identified and implemented the process used by the State of California to become the first state to assume federal environmental responsibilities from the Federal Railroad Administration under the NEPA Assignment Program (23 USC 327). Ms. Patel co-authored the handbook that describes the NEPA policies and practices used by the California High Speed Rail Authority to deliver the largest infrastructure project in the nation.  
Ms. Patel's former federal service includes serving as the Deputy General Counsel for the White House Council on Environmental Quality (CEQ) to provide government-wide legal advice on NEPA. She also served as the Deputy Associate Director for Regulatory Policy at CEQ, working closely with federal agencies, state and local governments, stakeholders, and other White House offices to advance sound and practical policy. Prior to joining CEQ, she served in various capacities at the United States Environmental Protection Agency (EPA), holding leadership positions in EPA's Office of General Counsel and Office of Regional Counsel (Region 6). 
Ms. Patel served as a primary reviewer for the 2015 U.S. Army Corps of Engineer's Red Book: Synchronizing Environmental Reviews for Transportation and other Infrastructure Projects. She also played an integral role in the drafting and implementation of key environmental provisions of the Moving Ahead for Progress in the 21st Century Act and the Fixing America's Surface Transportation Act. She was one of the architects of FAST-41. 
Ms. Patel has a Bachelor of Arts in Political Science from Northwestern University and a Juris Doctorate from Georgetown University Law Center. She is also an alumna of the National Renewable Energy Laboratory's Executive Energy Leadership Academy. She hails from Lima, Ohio; started her career in Chicago, Illinois and Washington, D.C.; proudly lived in Dallas, Texas; planted roots in Falls Church, Virginia; and now happily calls St. Louis, Missouri home.
Last updated: Monday, March 14, 2022